Most people don't even give a second thought to tree branches and what they have to offer. In fact, most people don't even consider tree branches at all when they think of flowers. But branches have so much versatility! The creative things you can use them for are endless.
You can showcase the branches alone by using flowering trees like cherry or crab apple, or go more elaborate by decorating the branches with orchids, crystals and candles. Branches are also a great and affordable way to add some height to an arrangement if you have tall ceilings. They have beautiful lines and you can definitely find a type of branch to suit your wedding style. Here are some common branches that designers use.
Curly Willow - Curly willow come in a variety of colors. The most common is green but you can also get them brown (dried) or white (stripped of their bark).
Here are some centerpieces using curly willow:
Mazanita: These are branches are very sturdy that can handle the weight of hanging candle votives and crystals. They naturally come in a dark chocolate brown color, but they can also be sand blasted to a light brown or white color.
Birch Branches: These branches are sturdy and straighter than curly willow. These are great for filling up space and come in a lot of varieties. You can learn more about birch branches here.
Centerpiece Ideas for birch branches:
Cherry Blossom Branches: These branches come ready to be used since they already have beautiful blossoms on them. Unfortunately, they are only in season late winter (January and February) for a short period of time.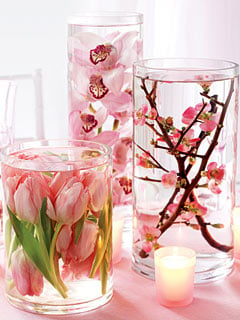 Grapewood: You can design beautiful decorative displays with sandblasted grapewood branches. You can combine moss, grasses and succulents for a natural display. Calla lilies and orchids are also great flowers to pair with grapewood.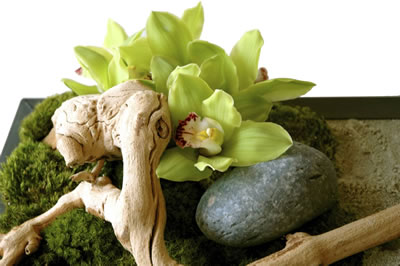 If you plan to use branches in any of your wedding decor be sure to ask what type of branches will be used. As you can see - there are many different options out there and you want to choose the ones that will fit with your wedding style.